ZARMEN GROUP
THE STRENGTH OF SYNERGY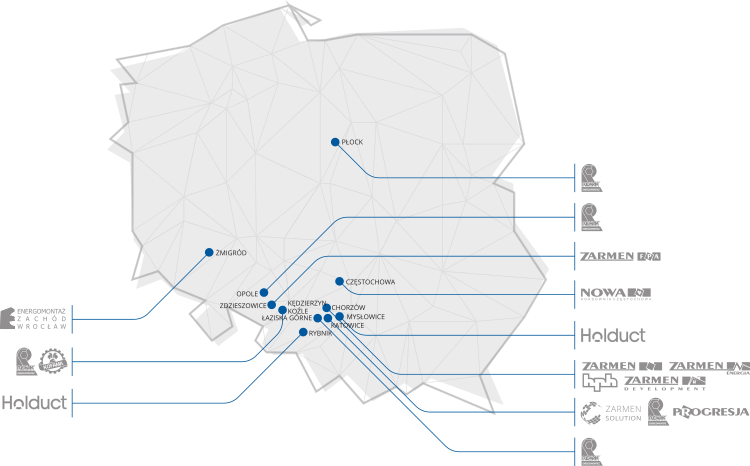 ZARMEN GROUP is a leader in comprehensive implementation of industrial projects and consists of 13 entities. The strength and potential of the group lies mainly in the diversified scope of activity of its members, and thus in the diversity of market sectors in which individual companies are present.
The activity of the Group is addressed to entities representing the following sectors of industry: power engineering, coke engineering, chemical, oil refining, steelworks and metallurgy, mining, railway, shipbuilding, cement and lime processing, foundry.
Composition of the ZARMEN GROUP
ZARMEN GROUP consists of 13 companies and affiliated entities:
ZARMEN Sp. z o.o.
Energomontaż Zachód Wrocław Sp. z o.o.
Koksownia Częstochowa Nowa Sp. z o.o.
ZARMEN FPA Sp. z o.o.
HPH-Hutmaszprojekt Sp. z o.o.
Przedsiębiorstwo Technicznej Obsługi Przemysłu OPOLREM Sp. z o.o.
HOLDUCT Sp. z o.o.
PROGRESJA S.A.
REMAK-ENERGOMONTAŻ S.A.
KOFAMA Koźle S.A.
ZARMEN Energia Sp. z o.o.
ZARMEN GPP Sp. z o.o.
ZARMEN Development Sp. z o.o.
An unquestionable advantage of ZARMEN GROUP is the highly qualified staff, extensive manufacturing and contracting potential, as well as know-how that ensures comprehensive turnkey execution of industrial projects, including design and practical implementation.
The group employs more than 2700 people with specialist competences and extensive industrial experience. The companies belonging to the capital group have various certifications, recognised worldwide.